Samsung D820 Review
I've been using the Samsung D820 for 4 months now, and it is quite a nice phone (although it took me a while to get used to some of the features *harhar*).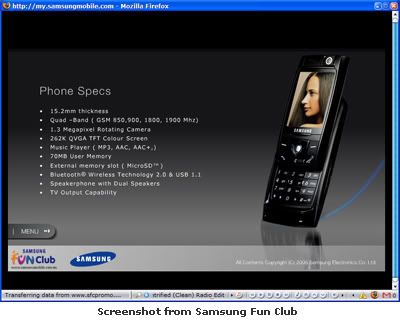 Considering I've been a Nokia user since I first delved into the world of mobile phones, switching to another brand took quite a bit of thinking. I can honestly confess that I'm more of a Nokia fan, and would've stuck with Nokia (had they produced better looking phones).
When the D820 was launched, something about it caught my attention. It was sleek, and having read some reviews about it (plus my loyal 4-year old Nokia 8250 was giving me problems dy), I decided that the D820 was my next phone. If you know me well enough, you'll know that when something catches my attention, it's very hard to change my mind and I'll be focusing on that object for a long, long time. And this is what I have to say about it:
The good stuff:
1) Sleek design - slim and not too light in weight (cos I don't like phones that are too light in weight, feels like I'm holding nothing)
2) Large screen - huge numbers appear when you type a phone number... quite a turn-off but most numbers are in my phonebook so I usually search via phonebook and dial instead of typing.
3) Fantastic screen resolution & brightness -a major plus point here
4) It's an MP3 player - sound quality is quite good too
5) Slide function - very smooth slide function :)
6) Document viewer - I can view PDF files, JPEG files, HTML files... but because I'm not on WAP or EDGE, so it doesn't make any difference to me XD
7) 1.3 MP camera - no big deal, I have my Lumix FX9 at home XD
8) TV output - if you wanna transfer your video to TV
9) Bluetooth capability - so I can transfer songs/images to another phone and vice versa.
10) Functions are similar to that of Nokia phones.
The not-so-good stuff:
1) Unless you copy your contact lists into the phone memory, you cannot set individual ringtones. So if you want to set a specific MP3 for a friend's number, you gotta copy your friend's number into the phone's memory first. Which brings us to problem #2...
2) When you copy your contact list into phone memory, the D820 will read from both phone memory and SIM card. So you'll wind up seeing double numbers when you view your contacts. Not a very good feature (I personally don't like seeing doubles on my phone). And if you're asking if I can set so that it read from either phone/SIM, the answer is no.
3) I can't attach namecards/business cards like I used to with my Nokia 8250. Each time I tried attaching a person's contact and send via SMS, the recipient ends up getting my namecard instead. I did a check and it appears Samsung doesn't allow you to attach namecards
*shrugs*
. So I guess this is one feature Samsung can improve on...
4) I'm used to Nokia's 5-bar battery indicator. So when I started using the D820, I took a while to
"study"
the 3-bar battery indicator, to judge how long the battery can last. I had to judge how long each bar can last. So far, the 1st bar can last about 3 days, the 2nd bar about 2 days, and the last bar about 1 day (battery life is even short when the camera mode is in use).
5) 73mb internal memory + external memory (MicroSD). I think it's enough for people like me, as I'm not the type to really play music on my phone. However, if you're a hardcore music lover and prefers listening to music while on the go, this phone's memory is definitely not enough.
6) 1.3MP camera is a no biggie these days. For those who prefer to takes pictures while on the go, then the D820 is not so suitable as the MP is insufficient these days.
7) I can't set my SMS tones too... a pity as I thought of doing so. Let's hope Samsung can add this feature into their other phones.
8) SMS sometimes is a wee bit of a hassle, as sometimes when I wanna add specific symbols, I have to navigate to the feature and pick the symbol I want to use. The T9 function is pretty similar to other phones, but I think SE's T9 function is probably the most friendly of the lot.
9) Not 3G enabled. Only WAP and EDGE. Which doesn't matter to me cos I'm not on any. But then 3.5G is coming so even your 3G phones are going to be obsolete XD
So far the phone is working out for me quite well, and knowing me, I'm gonna use this phone for the next few years (or until another sleek phone comes into the market & catches my attention :P).
I'm giving the D820... 8/10